Perks at Rockfish
Christmas Eve, Christmas Day and Boxing Day off – Guaranteed!
Enjoy your Birthdays off fully paid so you can go and celebrate your day.
50% off food up to 6 guests when you dine at any Rockfish restaurant
50% off food for up to 4 people when you dine at The Seahorse
Generous tips and Gratuities (Tronc) shared evenly through all of our Restaurant, Kitchen and Takeaway teams.
10% off our Online Seafood Market
Paid overtime
28 days paid holiday (full-time equivalent)
Refer a friend scheme with a generous cash incentive paid for each successful referral
Fun incentives and competitions throughout the year generous prizes, including Rockfish merchandise, collaboration with Salcombe brewery, wine trips and much more.
Employee Wellbeing
We understand the pressures of the modern world both inside and outside of the restaurant environment and work hard to ensure we support our employees in maintaining good wellbeing.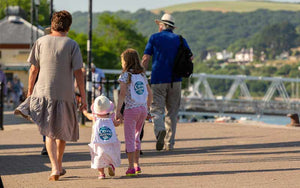 We believe Christmas should be a time for everyone to be able to spend time with their friends and family, so we give all our employees Christmas Eve, Christmas Day and Boxing Day off – Guaranteed.
We want you to relax and enjoy celebrating your Birthday, that's why we give you your Birthday off, all paid, without having to take it out of your holiday allowance.
We offer 40/48 hour contracts to salaried staff so employees can enjoy reduced hours through the quieter winter months.
All our employees have day one access to 'Hospitality Action' our employee assistance programme. This includes free counselling, financial support and 24-hour advice.
We offer financial assistance to employees, who can borrow up to 1 month's net pay (subject to 2 years continuous employment) to help with life's unexpected expenses
Enjoy some relaxing time out on the waves. You will have access to use our Rockfish paddleboards at any of our restaurants.
Connect and interact with all of the Rockfish teams through 'Workplace' our company communications platform