Tinned Seafood by Rockfish
Perfectly preserved tinned seafood by Rockfish for lovers of tinned fish.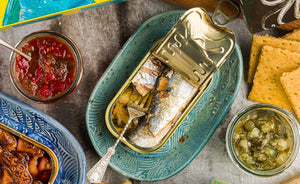 DELICIOUS, VERSATILE AND ALL YEAR ROUND
In countries like Spain and Portugal, seasonal catches are kept at their best by preserving them in tins. The process is an art form in itself, as the fish are transformed into something truly magical for eating throughout the year. With the seas around Britain offering some of the best fish in the world, our tinned seafood captures that quality, preserving British-landed fish in peak condition, as good as the day it was caught.
BRITISH SEAFOOD PERFECTLY PRESERVED
We started off with Mount's Bay Sardines, and now Brixham Cuttlefish, Lyme Bay Mussels and line-caught Brixham Bay Mackerel have all joined the family. Each tin is prepared by hand using traditional methods and recipes. Easy to use and transformative in salads, pastas and as a simple tapas, they're wonderfully versatile and packed with nutrients. Eating and cooking with our tinned seafood is a very special experience.
Simple Seafood Suppers with Tinned Fish
Our canned fish can be used to make some wonderfully quick and simple seafood suppers. Most of our tinned seafood recipes take less than 10 minutes from start to finish and use ingredients that you'll most likely already have in your store-cupboard or fridge.