New seasonal set menu
Mount's Bay Sardine on Toast
Our own tinned fish on toasted baguette with rocket and tomato aioli
Traditional Fish & Chips
Crisp fried local fish fillet in Rockfish batter, served with homemade tartare sauce and pickle
Sticky Toffee Pudding
Served with Devon clotted cream
Our seasonal set menu will be available from 5pm on Tuesday until 4pm on Friday at each of our coastal restaurants in Devon and Dorset. Subject to availability.
£20 PER PERSON
Served Daily
Aperitif & Appetisers
Green Olives From Seville
1.95
Sweet Chilli Peppers
2.50
Pickled Anchovy Fillets
3.95
Crusty Baguette & Salted Butter 
3.25
Crusty Baguette & Anchovy Mayonnaise
3.95
Tinned Seafood
We take the best local seasonal seafood & preserve it by hand. Served from the tin with crusty bread & pickles
Mount's Bay Sardines   9.95
Lyme Bay Mussels    11.95 
Mackerel Fillet    10.95 
Cuttlefish    11.95

Three of our Tinned Fish for Two to Share
£13 per person


Starters
Brixham Fish Chowder   12.95
Our famous soup packed with Brixham landed white fish, Enderby's smoked haddock, potatoes, vegetables & finished with a touch of cream
Leigh-on-sea Cockles with Bread & Butter   8.95
The best cockles in England. Enjoy with white pepper & malt vinegar    
Crisp Fried Baltic Whitebait    8.50
Juicy whitebait, fried & served with aioli 
Half Pint of Norwegian Prawns    8.95
Sweet cold-water prawns served shell on with seafood sauce
Salt & Pepper Brixham 'Calamari'     10.95
Crisp fried cuttlefish sprinkled with black, white & Sichuan pepper served with Singapore chilli sauce
Roasted Half Shell Scallops    13.95
Roasted in the shell with loads of garlic butter & breadcrumbs
Firecracker Prawn Cocktail    10.95
Succulent Norwegian prawns dressed with a spiced seafood sauce with little gem & spring onions
Chickpea Fritters   8.95
Crisp fried with fresh herbs & spices, served with sweet chilli sauce 
Portland Pearl Oysters 
Delicious sweet oysters grown in the clear waters of Chesil Fleet.
Served natural with our oyster drizzle & mignonette
3 oysters 9.95     6 oysters 18.95
DAILY LANDED SEASONAL FOOD
Our team will also mark on the menu today's availability and prices of market fish from our list of seasonal, sustainably caught seafood and shellfish. This will be led by what has been landed by the fleet in Brixham that morning. Your choice of fresh fish will then be cooked to order and served with your choice of Cornish new potatoes, a green salad or unlimited chips.
Mains
Norwegian Rockfish Fillets 17.95 
Delicious mild & sweet taste with a firm texture, crisp fried in Rockfish batter
Prime Brixham Hake Fillet 19.95
A sustainability success story. Fried skin on in Rockfish batter
Large Line Caught Haddock  22.95 
Prime 12oz fillet of Icelandic dayboat haddock, fried skin on in Rockfish batter
Seafood Gratin    19.95
A mixture of today's seafood, smoked Enderby's haddock & prawns baked in a rich white sauce & topped with parmesan
Fritto Misto  22.95
Mitch's favourite fried seafood dish, crispy fried calamari, rockfish, prawns & whitebait. Served with garlic aioli
Shell on King Prawns  24.95
Premium grade farmed prawns, served chilled shell on with our house cocktail sauce, succulent & delicious
Grilled Brixham Cuttlefish     18.95
Whole chargrilled cuttlefish, finished with lemon, garlic, parsley & olive oil 
Chicken Milanese   19.95
Pipers Farm chicken breast fried in a light breadcrumb with grated parmesan, garlic slaw & rocket salad
Sea Bream Fillet   22.95 
A large fillet of sea bream cooked on the plancha to crisp the skin, served with olive oil, lemon & a little sea salt.
Rockfish Tacos
Three corn tortillas with fresh lime, coriander & chilli, garlic yoghurt, mojo verde & tomato salsa - a flavour bomb!
Your choice of seafood or vegetarian...
Crisp Fried Rockfish Fillet 
17.95
Crisp Fried Artichoke
15.95
Sides
Unlimited Chips  3.50
Fried to order - enjoy as many as you like
Cornish New Potatoes  3.95
with olive oil, mint & sea salt
Green Salad  3.95
Mixed leaves, onions & cucumber with a herb dressing
Garlic Slaw  3.50
Cabbage, carrots, onions & garlic dressing
Fine Green Beans  3.95
Sauté with shallots, rosemary & olive oil
Sauté Spinach  3.95
with garlic butter & a squeeze of lemon
Yorkshire Garden Peas  3.50
Early crop peas & butter
Mushy Peas  2.95
Our famous side with butter & white pepper
Curried Mushy Peas  2.95
Mushy peas with Mr Sandhu's curry sauce
Sauces
Mr Sandhu's Curry Sauce    2.95
The original Mr Sandhu's curry sauce, a must
Roasted Garlic Aioli    1.95
Creamy roasted garlic aioli, great with chips
Jalapeño Tartare    1.95
Our classic tartare with a bit of heat
Romesco Sauce    2.95
A Spanish classic, almonds, roasted red peppers & paprika, perfect with grilled seafood
Anchovy Mayonnaise    2.95
Salted anchovies, capers and red wine vinegar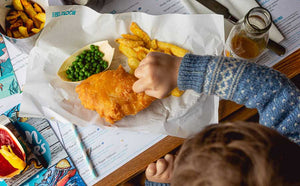 Children's Menu
Suitable for children up to the age of 11. Include chips & garden peas, artisan vanilla gelato 
Crisp Fried Local Fish
Changes daily, from the market
£8.95
Grilled Local Fish
Changes daily, from the market
£8.95
Pipers Farm Prime Chicken Breast in a Light Breadcrumb
£8.95
Fried Halloumi Sticks
£8.95
+ an ocean protector pack
£9.95
Dessert Menu
Artisan Italian Gelato
A Choice of 3 Scoops:
Madagascan Vanilla  ~  Double Chocolate ~. Salted Caramel  ~  Elderflower Sorbet
5.95
Warm Chocolate Brownie 
Served with Banoffe sauce & Madagascan vanilla gelato
8.50
Crème Brûlée
A rich custard base topped with a layer of caramelised sugar
8.50
Peach Melba
Vanilla gelato with raspberry sauce & peaches
6.95
Fisherman's Coffee
Coffee with Armagnac, Disaronno
Amaretto & double cream float. Served hot or chilled
8.95
Allergens
If you have food allergies, or intolerances, just talk to the team when you visit, or take a look at our allergens menu.
The entire menu can be prepared gluten free upon request.
See our allergens menu
Our drinks list
We have wonderful selection of wines carefully chosen to compliment our seafood as well as our own brew of lager and IPA in collaboration with Salcombe brewery.
Online Seafood Market
The Rockfish online seafood market sends the same high quality seafood that we send to our restaurants each morning direct to your home
We also have a fabulous range of seafood using British fish
Visit the Online Seafood Market