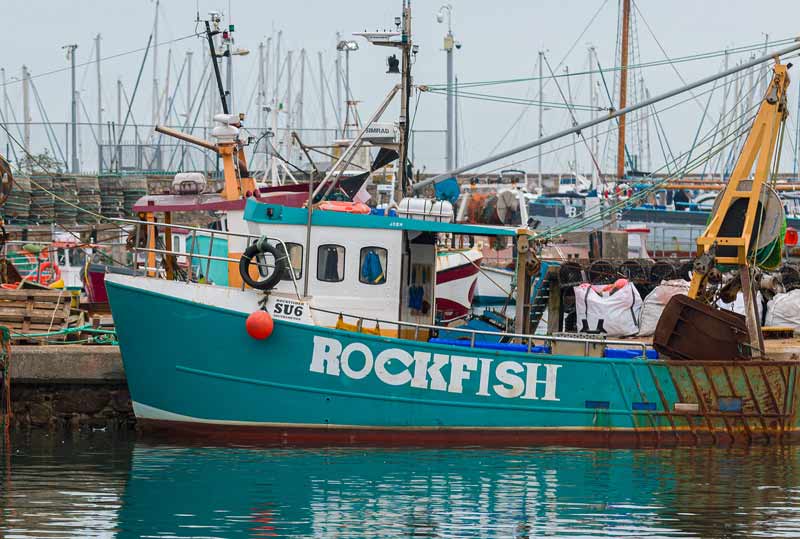 SUSTAINABILITY IS AT THE HEART OF WHAT WE DO
This isn't a big claim to a special way of working. We know there is no other option. At Rockfish we want to enjoy wonderful seafood today, while doing everything we can to be part of the solution, helping protect our fish stocks for the future.
Carrying out good practices on land supports the work that the fishermen are doing out at sea. Sustainable fishing has to including sustainable supplying. For us that means a commitment to sourcing sustainably, setting up our own zero-waste supply chain based right at the quay in Brixham, and eating with the seasons.
OUR COMMITMENT TO SUSTAINABLE SOURCING
We set ourselves a goal many years ago to make sure that every piece of fish we sell has been responsibly fished and that it can be traced back to the very boat it was caught on.
Sustainable fishing is an incredibly complex issue, and one that involves incredible disparity depending on the type and scale of fishing. Our unique location in Brixham, based right on the quay by the fishing fleet, gives us incredible access to the people at the forefront of commercial fishing in the south west. These people in this small community are fishing on a completely different scale than you may have seen in the news.
To put it in some kind of perspective, the value of landings here in Brixham are around 60million per year, all from British boats.
The Tokyo fish market by comparison is landing 4billion yen, and at Vigo in Spain the value of the landings is over a billion Euro. Sadly the positive efforts being made by the community in Brixham and across the south west are often caught up in the conversations about that huge scale fishing.
Our commitment to sustainable sourcing takes time and effort but is vitally important to everything we do. Mitch himself spends much of his time in Brixham working closely with the small community of fishermen, many of whom excel in leading sustainability practices. He also spends time travelling to MSC fisheries around the world where fish are caught in sustainable numbers and boats use the latest technology to preserve them by blast freezing when they're at their freshest.
WHERE OUR FISH COMES FROM
We're proud to say that we have achieved our goal and that every piece of fish on our menu, or delivered to your door from our online seafood market has been sourced from:
>Boats we know well who land their catch at Brixham market every day. The fishing fleet in this area is well managed and controlled and we know all the fishermen we work with by name.
>MSC certified fisheries. Fish like cod and haddock aren't local to us, but they are wonderful species. By working with the MSC and visiting the fisheries and fishermen in person we know these species are being fished in a way that ensures the oceans are not exploited to collapse.
>Accredited freshwater farms. There are some wonderful species that don't come from the sea, like chalk stream trout which is showcased by the Sustainable Restaurant Association. We only buy from accredited organisations who sympathetically rear farmed fish in a way that does not negatively impact the environment.
OUR ZERO WASTE SUPPLY CHAIN
One of the biggest challenges to fishing, and fishing stocks, is wastage. Seafood is bought and sold on a speculative basis and then it sits on a counter until someone wants it.
That means huge amounts of the precious catch is wasted. Our zero-waste supply chain is based right at the quayside in Brixham, and helps stop that from happening.
Here's how our zero-waste supply chain works
Each day our team choose the best fish from the Brixham market and from sustainable fisheries around the world.
We prepare and portion the seafood right at the quay, just 17 metres from where the boats are landed.
We send it to our restaurants in time for lunch that day, or direct to your door in our eco-packaging.
Any seafood not sold is blast frozen that day on the quayside, and available to buy online the next day from our frozen section.
No waste, just fresh sustainable seafood for today, and tomorrow.
SEASONAL SEAFOOD FROM BRIXHAM
In the same way that responsible farmers work with the land growing produce that is in season, we work with the fishing fleet to bring you seasonal seafood. This seasonality is at the core of our menu, and our online seafood market. That means you might not find mackerel in January or sea bass in March but does mean you can enjoy incredible British seafood responsibly all year round.
THE Rockfisher
As well as working with the fishing fleet in Brixham, we have our own boat The Rockfisher, which lands stunning seafood for our restaurants, and for our online seafood market. This small fishing boat is based in Brixham harbour and catches wonderful local fish all year round. We also work with other specialist fishing boats like the Happy Hooker which lands rod and line caught sea bass, and with people who dive for scallops, plucking them by hand from the sea bed.
Don't forget to give the Rockfisher a wave if you see it in Brixham Harbour and wish our skipper well on their adventures out at sea.