Whole squid grilled with nam jim sauce

Squid is usually fried or braised, and both are delicious, but cooked over a fire squid really comes into its own. Ask your fishmonger to clean them by pulling the tentacles from the body and washing the inside of the squid to remove all the gut and any sand, but leave the fins and fine membrane on the squid. Wash the tentacles. Dry the squid well, ready for grilling.

Serves 2

Ingredients

2 cleaned whole squid, 150–200g each

olive oil

lime wedges to serve

salt

For the sauce:

small handful of coriander leaves

small handful of mint leaves (preferably Vietnamese)

2.5cm piece of fresh ginger, finely grated

2 peeled garlic cloves

2 fresh red chillies, finely chopped

salt

1 shallot, finely chopped

2 tablespoons fish sauce

1 lime

2 tablespoons palm sugar

Method

Prepare a charcoal fire in the barbecue, or preheat the grill. Brush the squid with olive oil and season with salt, then grill gently, turning about halfway, until it starts to char on the edges of the fins and tentacles – this will take 7–8 minutes.

For the sauce put the coriander leaves and mint leaves in a mortar and pestle with the ginger, garlic, red chillies and a pinch of salt. Crush and pound to a paste. Throw in the shallot and crush a little more. Add the fish sauce, the juice of 1 lime and the palm sugar and mix in. Balance the flavours by adding more of any of these ingredients. You want a sauce that is salty, sweet and hot.

Spoon the nam jim sauce liberally over the fish and serve with wedges of lime.
Related products
Get Market updates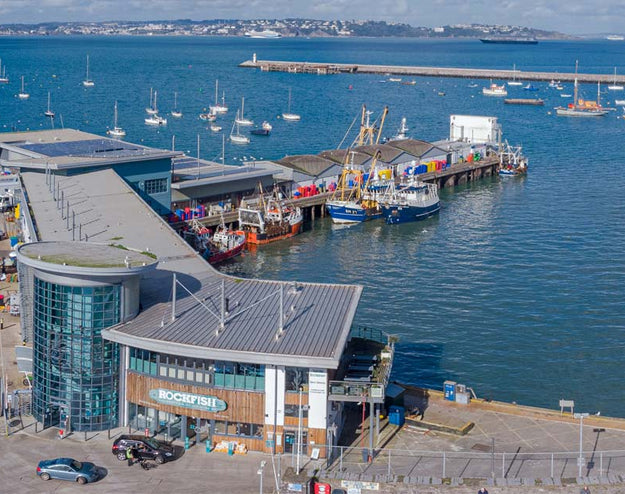 Never miss out on the latest offers and find out first what fresh fish has been landed.