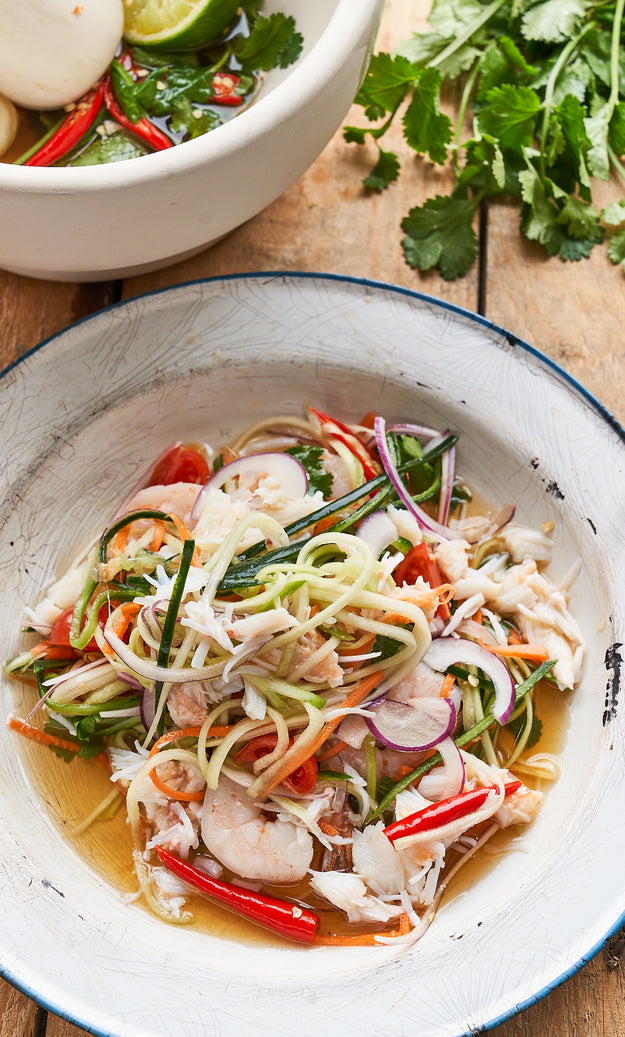 Prawn & crab som tam salad

Any Asian seafood recipe will be delicious. There is always an explosion of flavour in Thai salads and Malaysian and Singaporean curries. Every recipe seems to capture the whole spectrum of flavours - hot, sweet, sour, fragrant and fresh in every mouthful. Green papaya is the main ingredient in this recipe. You can find it in Asian stores although you can use courgette and cucumber cut into strips.

Serves 2

Ingredients

2 large carrots, peeled

1 green papaya, peeled

a 15cm length of cucumber

1 red onion, sliced lengthways (root to top)

16 peeled cooked king prawns – if buying raw, poach gently in salted water

150g fresh hand-picked white crab meat

6 cherry tomatoes, quartered

a handful of mint leaves

a handful of coriander leaves


For the dressing:

4–6 small garlic cloves, peeled

2 small red chillies – add more if you want it hot

1 tablespoon palm sugar

juice of 1 lime

6 tablespoons fish sauce

Method

In Thailand they have a small tool like a potato peeler that is very useful for making this salad. You just run it down the vegetables to create long strips, which are what make the salad's texture so good. If you have this Thai tool, run it down the sides of each vegetable – carrots, papaya and cucumber – to create long strips. Alternatively, slice the vegetables, then cut into thin matchsticks. Place in a mixing bowl. Add the red onion.

Make the dressing by bruising the garlic with the chillies and palm sugar in a pestle and mortar. Add the lime juice and then the fish sauce and pound to mix. The dressing should be hot, sweet and salty. Pour over the vegetables and toss to dress them, then add the prawns, half the crab and the tomatoes, and toss through. Add the mint and coriander and toss in.

Serve on a big platter sprinkled with the rest of the crab.
Related products
Get Market updates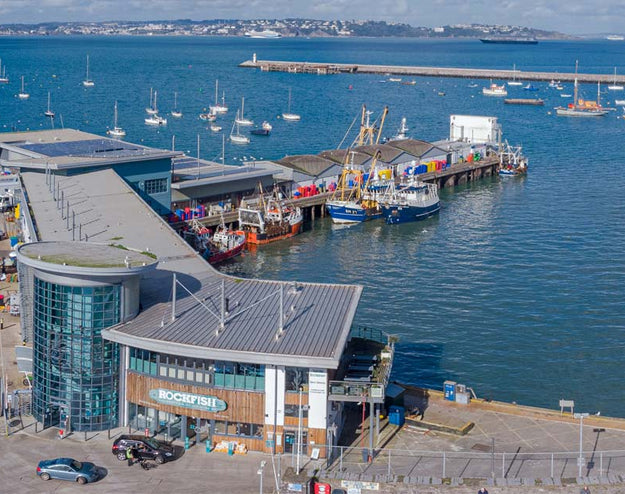 Never miss out on the latest offers and find out first what fresh fish has been landed.