Rockfish seafood chowder

A well-made seafood chowder is delicious, comforting and very easy. It's packed with with seafood including smoked haddock, which gives it that extra punch.

Serves 4

Ingredients

1kg live mussels

500g live clams

200ml white wine

a sprig of thyme

3 garlic cloves, finely chopped

50g butter

4 carrots, finely chopped

1 large leek, finely chopped

1 celery stick, finely chopped

100g diced smoked pancetta (optional)

2 fresh bay leaves – give them a little tear

400ml double cream

300g finely diced potatoes

200g skinless fish fillet, cut into bite-sized pieces – cod, pollack and monkfish all work well

150g skinless smoked haddock fillet, cut into bite-sized pieces

12 peeled raw king prawns or a handful of small peeled prawns

a handful of chopped parsley

salt and freshly ground black pepper

Method

Wash the mussels in cold water. Scrape off any barnacles attached to the shells and pull off the brown wispy beards, if there. Discard any mussels with broken shells. If any mussels are open, tap them sharply. If they don't close, discard them – they are dead and not edible. Rinse the mussels again, then drain in a colander.

Check that all the clam shells are undamaged and tightly shut (or close when tapped). Rinse under cold running water to remove any grit or sand.

Put the mussels and clams in a pan large enough to hold them comfortably without crowding – it's better if they are spread out rather than being piled on top of each other. Add the white wine, thyme and 1 of the garlic cloves. Crank up the heat, cover and steam until the shells open. Leave to cool, then remove the clams and mussels from their shells, discarding any that haven't opened. Strain the juices and reserve.

Melt the butter in the same pan and add the carrots, leek, celery, remaining garlic, pancetta, if using, and bay leaves. Cook gently until the vegetables are softened. Add the reserved shellfish juice and the cream and bring to a simmer. Add the diced potatoes and simmer for 8–10 minutes or until they start to break down.

Add the raw fish and prawns and cook for 5–6 minutes, then add the mussels and clams to warm through for a few minutes. Finish with plenty of chopped parsley and season to taste.
Related products
Get Market updates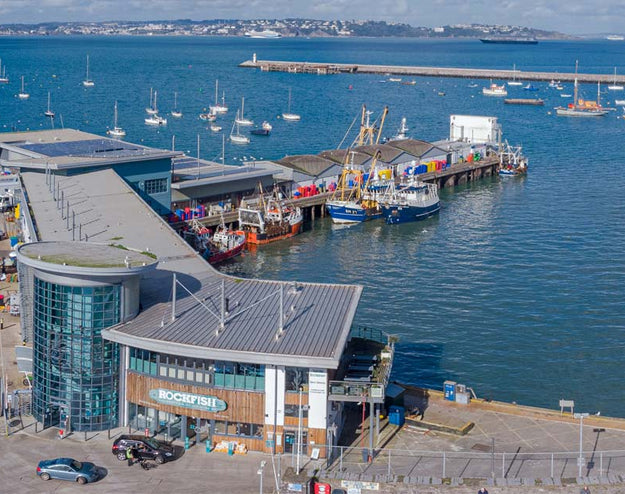 Never miss out on the latest offers and find out first what fresh fish has been landed.