The Mackerel Schwarma

All the flavours of a great kebab, using one of Mitch's favourite fish, mackerel. From smokiness of the mackerel to the garlic yoghurt and fresh herbs, this is a flavour explosion that's really worth making. 

Serves 2

Ingredients

1 mackerel, filleted and skinned

1 heaped tablespoon plain flour

a pinch of ground cloves

a pinch of ground cardamom

a pinch of ground cinnamon

a pinch of white pepper

olive oil for frying

For the smoked mackerel 'hummus'

1 smoked mackerel fillet, skinned

80g drained canned chickpeas, rinsed

1 tablespoon tahini

2 tablespoons mayonnaise

zest of ½ lemon

For the garlic yoghurt

1 garlic clove, crushed

2 tablespoons plain yoghurt

To assemble

75g white cabbage, finely sliced

juice of 1 lemon

2 flour tortillas

1 tomato, chopped

½ small red onion, finely sliced (root to top)

a small bunch of dill, chopped

za'atar – a Lebanese spice sold in most supermarkets

1 fresh green chilli, finely sliced

a pinch of chilli flakes

2 tablespoons pomegranate seeds

salt

Method

To make the 'hummus', combine the mackerel, chickpeas and tahini in a food processor and blitz to a smooth paste. Transfer to a bowl and fold in the mayonnaise and lemon zest. Set aside until ready to serve.

Mix the garlic with the yoghurt and a good pinch of salt. Dress the cabbage with lemon juice.


Remove any pinbones from the mackerel fillets. Mix the flour with the cloves, cardamom, cinnamon and pepper. Dip the mackerel fillets in this to coat both sides, then fry in a little olive oil, skinned side down, for about 2 minutes or until crisp. Turn on to the other side and finish cooking for about 1 minute. Leave in the pan, off the heat.

Warm the tortillas, then lay them out and spread the 'hummus' over them. Scatter over the cabbage, then the tomato and onion followed by plenty of dill. Lay a mackerel fillet on each. Add a tablespoon of garlic yoghurt, then sprinkle liberally with za'atar, fresh chilli, chilli flakes and pomegranate seeds. Fold the bottom in and wrap it all up.
Related products
Get Market updates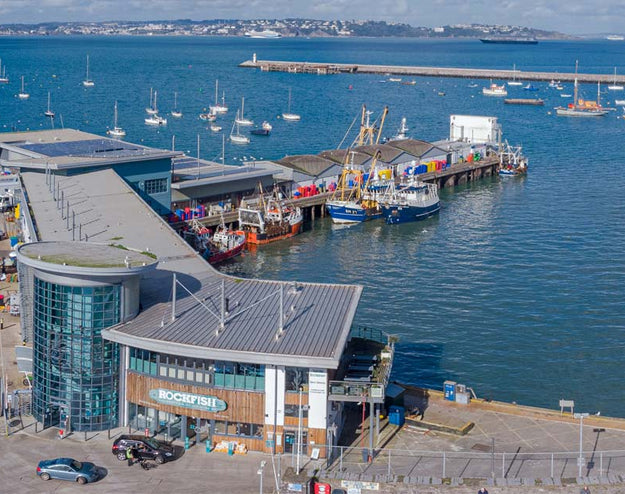 Never miss out on the latest offers and find out first what fresh fish has been landed.